W.E.C Ibero Portugal has been certified in Quality Management Systems, as laid out in the ISO 9001 requirements, since March 2017. Below is the respective certificate.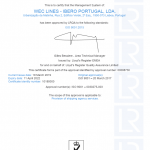 Quality Policy
In order to achieve the principles defined in the Introduction to Improvement and to guarantee the targets of the Quality Management System, Management is permanently committed to:
Meet customer requirements, know their opinion, guard against their dissatisfaction, correct and improve processes and attitudes in order to fulfill their own desires;
Continuously define improvement targets, properly planning the necessary activities for compliance;
Promote the development of their human resources, raising awareness of the client's importance and encouraging their participation in improvement;
Ensure the proper functioning of the QMS, facilitating the necessary resources for that;
Promote adequate selection of suppliers, fostering the most advantageous partnerships for both parties, which will enable the most appropriate qualitative and commercial development.
This Policy must be understood and practiced by all, serving as a basis for the Quality Management System, which is developed in accordance with the requirements of ISO 9001.